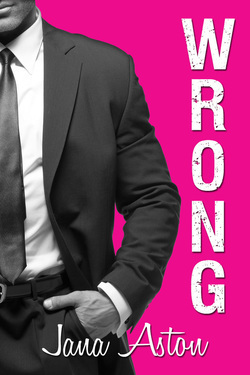 Wrong
by
Jana Aston
Find the Author:
Website
,
Twitter
,
Facebook
,
Goodreads
,
Amazon
Series:
Wrong #1
Published by
Rutherford Press
on October 7, 2015
Genres:
Coming of Age
,
Contemporary Romance
,
New Adult
,
Romantic Comedy
Pages:
278
Heat Rating:
This book may be unsuitable for people under 18 years of age due to its use of sexual content, drug and alcohol use, and/or violence.
Add to Goodreads
Amazon Purchase
~|~
Barnes and Noble Purchase
If you buy this book using the Amazon link, I will receive a small commission from the sale as an Amazon affiliate. Thank you for supporting my blog!
Synopsis

I have a history of picking the wrong guy. Gay? Player? Momma's boy? Check, check and check.


Now I can't stop fantasizing about one of the customers at the coffee shop I work at between classes. It's just a harmless crush, right? It's not like I ever see this guy outside of the coffee shop. It's not like I'm going to see him while attempting to get birth control at the student clinic. While wearing a paper gown. While sitting on an exam table. Because he's the doctor. Shoot. Me.

But what if, for once, the man I've had the dirtiest, most scandalous fantasies about turned out to be everything but wrong?
My Review
WRONG is hilariously uncomfortable!
What a debut novel! I'm late to the game, but am so glad to have read this (and RIGHT, but that's another review!). I have such high praise for the author, and her whole support team. There is not one thing wrong with WRONG. Seriously. Read this book, and then try to imagine it as a movie. Snort.
I have never found anything at all romantic about gynecologists. Until now. The gynecologist in this book nearly melts kindles, he is so hot in what he does, says, and looks like.
I read favorite books aloud to my husband, a chapter a night. This one is going on that list of TBRs. Anyone that enjoys a good rom-com will enjoy this book.
Warning: may cause unexpected crying.