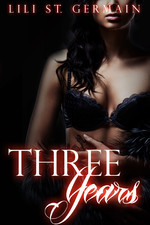 Three Years
Series:
Gypsy Brothers #5
Also in this Series:
Seven Sons
,
Six Brothers
,
Five Miles
,
Four Score
,
Two Roads
,
One Love
on July 18, 2014
Pages:
108
This book may be unsuitable for people under 18 years of age due to its use of sexual content, drug and alcohol use, and/or violence.
Add to Goodreads
Amazon Purchase
~|~
Barnes and Noble Purchase
If you buy this book using the Amazon link, I will receive a small commission from the sale as an Amazon affiliate. Thank you for supporting my blog!
Synopsis

**Please note this book is a dark romance and deals with serious themes.*
Every day for six years, I used to pray that I would find my way back to the boy I loved.
Until finally, one day, I did.
But that's the funny thing about life. Nothing good ever lasts, not for me, anyway. You think you're the one with the power, at least I did, but then I got careless. One tiny mistake, and now I am powerless to stop what comes next.
People think money equals power, but all the money in my bank account, the dirty notes laundered clean that my father left for me, are useless.
Money does not equal power. Power is held by the one with the knife in his hand, tracing shallow cuts into your skin.
Power is held by the one who owns you.
I had power once.
Now, I have nothing.
My Review
This whole series has been five stars for me, but this one stands out above the rest. It's my favorite (so far) by a wide margin. So many secrets finally revealed! I wonder what else the author is hiding from us. I've guessed most of the secrets. I'm a little afraid about what that might say about how my brain works. LOL!