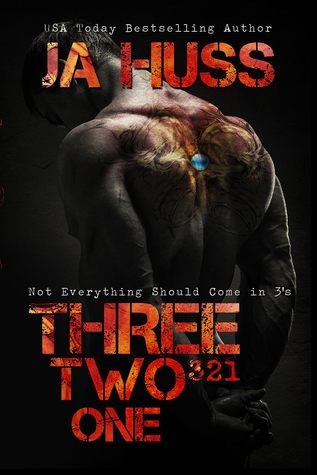 Three, Two, One
on January 27, 2015
Pages:
365
This book may be unsuitable for people under 18 years of age due to its use of sexual content, drug and alcohol use, and/or violence.
Add to Goodreads
Amazon Purchase
~|~
Barnes and Noble Purchase
If you buy this book using the Amazon link, I will receive a small commission from the sale as an Amazon affiliate. Thank you for supporting my blog!
Synopsis

ONE GIRL

Battered, barefoot, and huddled under a bookstore awning in the pouring rain, Blue only knows one thing. After fifteen months of captivity, finally… she is free.

TWO FRIENDS

Self-made millionaires JD and Ark are not out to save anyone when they stumble upon a wet and shivering girl one early Sunday morning. But when you sell sex for a living and salvation rings your bell… you answer the call.

THREE SOULMATES

After years of searching, love lifts the veil of darkness, and three people—with three very big secrets—find themselves bound together in a relationship that defies the odds.

Or does it?

Love. Lust. Sex.

This trinity might be perfection… but not everything should come in 3's.

WARNING: This is a STANDALONE non-traditional M/F/M ROMANCE with a non-traditional ending.
My Review
"I saw her first, okay?"
That's the line in the book that grabbed me by the throat and told me that this trio would not last, and things would not end well.
"We are not three people in a bed. We are not two people finding our climax. We are one."
That's the line in the book that warmed my heart and told me that my first impression might be wrong.
"She is not one lost girl. We are not two best friends. We are one trinity of perfection."
That's the line in the book that made me tear up and fully believe that a trio in love could last forever.
The trouble is, when you're reading a book by JA Huss, you can't KNOW what to expect at all. I was wrong about everything. EV. RY. THING.
I will say no more for fear I will spoil the story for you. Don't EVER skip over the End of Book Shit at the end of one of her books, but especially this one. It's fascinating how this story came about. Julie, I'm so glad you didn't use a pen name for this one. You deserve glaring amounts of glory and full credit for the masterpiece that is Three, Two, One. Thank you so much for sharing this story with your #fans. Love you!