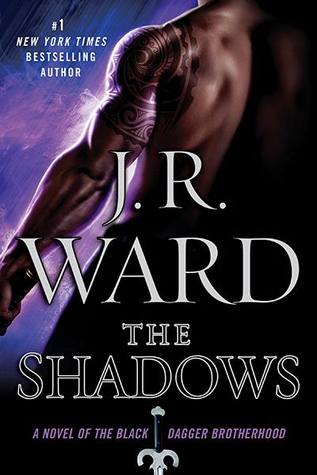 The Shadows
Series:
Black Dagger Brotherhood #13
on March 31, 2015
Pages:
590
This book may be unsuitable for people under 18 years of age due to its use of sexual content, drug and alcohol use, and/or violence.
Add to Goodreads
Amazon Purchase
~|~
Barnes and Noble Purchase
If you buy this book using the Amazon link, I will receive a small commission from the sale as an Amazon affiliate. Thank you for supporting my blog!
Synopsis

Two brothers bound by more than blood fight to change a brutal destiny in the heart-wrenching new novel of the Black Dagger Brotherhood by #1 New York Times bestselling author J. R. Ward.

Trez "Latimer" doesn't really exist. And not just because the identity was created so that a Shadow could function in the underbelly of the human world. Sold by his parents to the Queen of the S'Hsibe as a child, Trez escaped the Territory and has been a pimp and an enforcer in Caldwell, NY for years- all the while on the run from a destiny of sexual servitude. He's never had anyone he could totally rely on... except for his brother, iAm.

iAm's sole goal has always been to keep his brother from self-destructing- and he knows he's failed. It's not until the Chosen Serena enters Trez's life that the male begins to turn things around... but by then it's too late. The pledge to mate the Queen's daughter comes due and there is nowhere to run, nowhere to hide, and no negotiating.

Trapped between his heart and a fate he never volunteered for, Trez must decide whether to endanger himself and others- or forever leave behind the female he's in love with. But then an unimaginable tragedy strikes and changes everything. Staring out over an emotional abyss, Trez must find a reason to go on or risk losing himself and his soul forever. And iAm, in the name of brotherly love, is faced with making the ultimate sacrifice...
My Review
Five Bloodletting Stars!
This is my favorite of all the Black Dagger Brotherhood books thus far. I love the head-spinning stories, the name- and brand-dropping (it makes stuff FUNNIER), the suspense, the appearance of all my favorite characters, the laughing, the crying SO HARD, the life, the death, ALL OF IT. I loved The Shadows from their first appearance books ago, and was thrilled to finally have their story rounded out and shaped.
There is still so much to look forward to in the next book and spin-off! The Warden has been an auto-buy for me since I found her a little over a year ago, and I don't see that stopping. She has a way of keeping the much-used characters fresh, and the new characters are woven in seamlessly so that you don't even know it's happening. Brilliance!
The mystery surrounding Rhage right now has me riveted to future books. My beloved, Assail, has done horrible, vomit-inducing things, and I want so much for him to be redeemed in some way. I don't want to rush JR Ward IN ANY WAY, because I don't want to interfere with whatever her writing process is. I don't want these stories hurried. I will wait patiently, and keep my anxious anticipation to myself. TAKE YOUR TIME, MADAM!
The Warden is my favorite today.