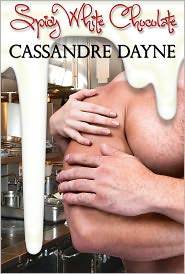 Spicy White Chocolate
on June 15, 2015
Pages:
67
I received this book for free from the publisher through NetGalley in exchange for an honest review. This does not affect my opinion of the book or the content of my review.
This book may be unsuitable for people under 18 years of age due to its use of sexual content, drug and alcohol use, and/or violence.
Add to Goodreads
Amazon Purchase
~|~
Barnes and Noble Purchase
If you buy this book using the Amazon link, I will receive a small commission from the sale as an Amazon affiliate. Thank you for supporting my blog!
Synopsis

What will five highly professional and well-respected women do to entice their erotic book club meetings? A game of seduction perhaps? Developing sinful stories of their own? Join them as they search for the perfect younger hunks to help satisfy their secret fantasies, indulging in uninhibited moments of passion. What happens when the selected men find out about their rouse?

Shawna Dupres was more than ready to have a steamy affair and so were the women in her erotic book club. Forming a wicked pact, each was to hunt and seduce a man. The winner would receive an all expenses paid weekend for the lucky couple. The kick was the hunk had to be much younger. Unfortunately owning Sauce and Spice, an upscale Cajun bistro and one with serious financial troubles forced long hours. She desperately needed inspiration for a spicy dessert and a way to save her livelihood. When Austin Tomlin arrived to repair a storm-damaged door, she knew the brawny man might be the tasty treat that could kick start her career and her libido. A spicy white chocolate fondue was a huge hit all the way around.

Austin craved the voluptuous woman at first sight and while she was years older, it only added to her allure and he knew Karma was giving him more than a hint or two. Engaging in a conversation, the sparks flew and they entered into a wild tryst in the middle of the kitchen, realizing they both craved more. Unfortunately Austin wasn't who he purported himself to be and his secret could finish their relationship before it even started. Then again, if he came clean, he might be able to help her save her restaurant. But Shawna had been burned before. Could she trust this man to save not only her restaurant but also her heart?
My Review
This review is for the new edition that was to have published yesterday through Booktrope…
I didn't care for the beginning of the story with the erotic book club ladies acting and talking all crazy. I talk dirty with my girlfriends, but in this book, it just seemed WAY over the top. Their five (I think it was five) names were being tossed around so quickly, I didn't know who was who. Very confusing…
And then there was one. 🙂 The story moved forward following just one of those women in her quest for a young, hot stud to seduce. The rest of the book was straight-up erotica with a sweet little story to go along with it. Erotica with a ton of spice and a lot of heat was mixed with sweet romance and a HEA.
This is a quick read, but quite a bit is said in so few pages. I recommend! So sad that you're not all seeing the fabulous new cover! I hope it appears soon. It suits the book so much better! Let's see if I can be all tech-savvy and add it here:
Looks like I'm now a pro at publishing pictures as part of my blog post. LOL! Enjoy this fun this book!
Originally published February 7, 2014 with Four Dogs Publishing.