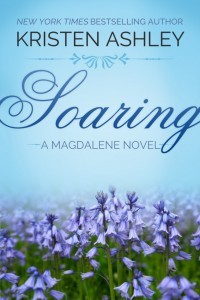 Soaring
Series:
Magdalene #2
on March 16, 2015
Pages:
597
Audiobook Length:
8 hours and 15 minutes
This book may be unsuitable for people under 18 years of age due to its use of sexual content, drug and alcohol use, and/or violence.
Add to Goodreads
Amazon Purchase
~|~
Barnes and Noble Purchase
If you buy this book using the Amazon link, I will receive a small commission from the sale as an Amazon affiliate. Thank you for supporting my blog!
Synopsis

American heiress Amelia Hathaway needs to start anew.

Her husband cheated on her, and when everything she wanted in life slipped through her fingers, she fell apart. When she did, she took another heart wrenching hit as she lost the respect of her children.

When her ex took her family from California to live in the small town of Magdalene in Maine, Amelia decided it was time to sort herself out. In order to do that and win her children back, she moves to Cliff Blue, an architectural masterpiece on the rocky coast of Magdalene.

Her boxes aren't even unpacked when she meets Mickey Donovan, a man who lives across the street, a man so beautiful Amelia takes one look at Mickey and knows she wants everything from him.

The problem is, she finds out swiftly that he's friendly, he's kind, but he doesn't want everything back.

Amelia struggles to right past wrongs in her life at the same time find out who she wants to be. She also struggles with her attraction to the handsome firefighter who lives across the street.

But Amelia will face a surprise when her friendly neighbor becomes not-so-friendly. As Amelia and Mickey go head to head, Amelia must focus on winning back the hearts of her children.

She soon discovers she also must focus on winning the heart of a handsome firefighter who understands down to his soul the beautiful heiress who lives across the street is used to a life he cannot provide.
My Review
Alone among friends…I loved this book and they didn't.
This book was everything I hoped for from Kristen Ashley. I laughed. I cried. I learned a few new words. I know to really listen now when someone is whispering (Kindle-check how many times "whisper" is used. I wouldn't have noticed if The Lovely Page hadn't told me.). I cried a LOT.
When I met Mickey in reading The Will, I had no clue he would be a perfect man for someone. All I remember (I did not reread The Will) is that Mickey was a rough-around-the-edges amateur boxer. He can fuck, and he can also do up hearts, flowers and romance. He says the sweetest things! I, Amy, fell in love right beside Amelia/Amy.
Every single heartbeat of this book was five stars for me. Every word. Every page. This is classic Kristen Ashley who, in my eyes, has got her mojo back. I hope this trend continues.