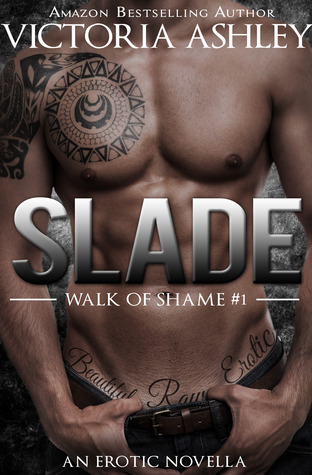 Slade
Series:
Walk of Shame #1
Also in this Series:
Hemy
,
Cale
,
Walk of Shame
on May 31, 2014
Pages:
176
This book may be unsuitable for people under 18 years of age due to its use of sexual content, drug and alcohol use, and/or violence.
Add to Goodreads
Amazon Purchase
~|~
Barnes and Noble Purchase
If you buy this book using the Amazon link, I will receive a small commission from the sale as an Amazon affiliate. Thank you for supporting my blog!
Synopsis

My name is Slade Merrick and I'm a fucking sex addict . . .

I've been told it's a problem. But I see it as a passion; something that I'm good at. And who the fuck stops something that they're good at?

They want me to seek help; get my cock in check. Don't judge my lifestyle. You're no better than me. Just admit it, you like to fuck too. Sex is what I do best; my own personal high, so I embrace it instead of being ashamed.

When I'm not fucking, I'm slinging drinks at Walk Of Shame or stripping my way into your bed; another thing I'm good at. Every woman's darkest fantasy brought to life.

So, am I stopping? Fuck no. Sex is beautiful, raw and erotic and I get off knowing I can have it with anyone I want . . . with the exception of her.

Aspen.

She walks into the club swaying those hips, instantly drawing my cock to attention. She's pure perfection. That is, until she opens that mouth, drawing me in and for the first time in forever I want something more than sex. I want her and she hates it.

Things get dirty. Dirty is what I like; it's how I live. But . . . she's playing a game she can never win.

Author's Note: Due to strong language and a very high amount of dirty, sexual content, this book is not intended for readers under the age of 18. This is #1 in the Walk Of Shame series of novellas that will all be standalone reads. If you're not into, cocky bad boys with filthy mouths and even filthier sex, then this series is not for you. If you are . . . then, come meet the dirty boys of Walk Of Shame.
My Review
Original review of July 19, 2014:
There's nothing like a wounded bird… I want to HOLD Slade and cry on his t-shirt. There's nothing like a tattooed, sex-driven bad boy with a heart of gold. Aspen who? I'm gonna slip on her high heels and make my own place in Slade's life while I wait for Hemy's book.
Added on June 22, 2015:
Okay, that was my tiny review from back in the day when I first started writing them. What would I say now? I would say I want to line up paperback copies of all of Victoria Ashley's books and spend some time licking the covers. But, alas, I only have Thrust in paperback, so licking the Kindle it is. I think Slade might be my favorite. 🙂
Why am I posting this today? Well, I have a new book-loving friend who loves to read about heroes who are virgins, or at least celibate for a long time. Well, well, well! We have Cale of the Walk of Shame coming out soon by Victoria Ashley. It's not published yet, but I can recommend it highly RIGHT FUCKING NOW. Cale is a VIRGIN STRIPPER. Yep. It's gonna be a good book.
The Walk of Shame books can be read as standalones, but they're SO much better read as a series. The bad boys of the Walk of Shame have hearts of gold. So, read Slade and Hemy (my review here) and Cale is coming soon. 😉