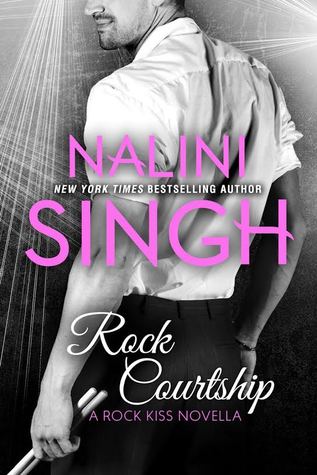 Rock Courtship
Series:
Rock Kiss #1.5
on September 30, 2014
Pages:
168
I received this book for free from the publisher through NetGalley in exchange for an honest review. This does not affect my opinion of the book or the content of my review.
This book may be unsuitable for people under 18 years of age due to its use of sexual content, drug and alcohol use, and/or violence.
Add to Goodreads
Amazon Purchase
~|~
Barnes and Noble Purchase
If you buy this book using the Amazon link, I will receive a small commission from the sale as an Amazon affiliate. Thank you for supporting my blog!
Synopsis

New York Times bestselling author Nalini Singh's new contemporary romance novella is pure hard rock and scorching heat...

What happens when the Gentleman of Rock decides to play dirty?

A drummer for the hottest rock band on the planet, David has a single, powerful weakness: Thea, the band's publicist and the woman who steals his breath away with her every move.

Only problem is, Thea doesn't date clients--or musicians. Emotionally scarred by a cheating ex, she's not about to risk her heart with a man who has groupies buzzing around him like flies. Even if his sexy smile ties her up in knots.

What she doesn't know is that David is a one-woman man...and he's madly in love with her. David's determined to prove he's worth the risk, and willing to court her, step by exquisite step. Thea's about to discover just how long and hard this handsome drummer can play.
My Review
Gentleman rocker?
The Rock Kiss series is my first exposure to Nalini Singh, and I'm so ready for more after this! The variety of books I like is HUGE, and Ms. Singh hits several of my happy hot buttons.
David is a gentleman rocker who is no gentleman in the bedroom. He's loyal to blood for those he loves. The question is, will Thea let him love her?
"When you suffer such a big hurt, the longer you permit it to live in you, the bigger it grows, until it seeks to devour your soul."
Poor Thea. Her heart was stomped on by her slimy ex. Through the love and support of family and friends, she's ready to move on. Her attraction to David runs hotter than even in the early happy days with her ex.
"He'd made her orgasm. With nothing but the pressure of her thighs on her needy flesh and his words. The damn man had figured out her weak point and he'd aimed his missile right at it: her mind."
I'm glad this was a novella-length book. I just don't know if my pantie drawer could handle the reduction of a full-length Nalini Singh pantie-melting novel. I'm scared to read her other books. Is she going to break my washing machine?
Keep writing, Nalini Singh, and I'll keep reading!