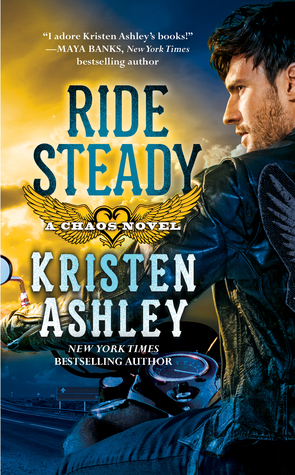 Ride Steady
by
Kristen Ashley
Find the Author:
Website
,
Twitter
,
Facebook
,
Goodreads
Series:
Chaos #3
Also by this Author:
Deacon
,
Soaring
Published by
Forever
on June 30, 2015
Genres:
Contemporary Romance
,
Romantic Suspense
,
Women's Fiction
Pages:
628
Audiobook Narrator:
Kate Russell
Audiobook Length:
17 hours and 11 minutes
I received this book for free from the publisher through NetGalley in exchange for an honest review. This does not affect my opinion of the book or the content of my review.
This book may be unsuitable for people under 18 years of age due to its use of sexual content, drug and alcohol use, and/or violence.
Add to Goodreads
Amazon Purchase
~|~
Barnes and Noble Purchase
If you buy this book using the Amazon link, I will receive a small commission from the sale as an Amazon affiliate. Thank you for supporting my blog!
Synopsis

The ride of her life . . .
Once upon a time, Carissa Teodoro believed in happy endings. Money, marriage, motherhood: everything came easy---until she woke up to the ugly truth about her Prince Charming. Now a struggling, single mom and stranded by a flat tire, Carissa's pondering her mistakes when a vaguely familiar knight rides to her rescue on a ton of horsepower.

Climb on and hold tight . . .
In high school, Carson Steele was a bad boy loner who put Carissa on a pedestal where she stayed far beyond his reach. Today, he's the hard-bodied biker known only as Joker, and from the way Carissa's acting, it's clear she's falling fast. While catching her is irresistible, knowing what to do with her is a different story. A good girl like Carissa is the least likely fit with the Chaos Motorcycle Club. Too bad holding back is so damned hard. Now, as Joker's secrets are revealed and an outside threat endangers the club, Joker must decide whether to ride steady with Carissa---or ride away forever . . .
My Review
This book has EVERYTHING I've grown to love about Kristen Ashley books!
Classic Kristen Ashley right here. This book is crammed FULL of cameos of beloved characters from previous books and series, like Rock Chick, Dream Man, my favorite Unfinished Hero, and of course previous Chaos books. And who doesn't LOVE Elvira??? Beyond all that, she's given us a new biker to love. I remember feeling a bit ambivalent but still slightly curious about Joker in a previous book…wasn't he in Shy and Tabby's Chaos book? I remember a dark, scary, brooding biker who helped Tabby with something…I think. Huh. I think I feel some re-reads coming on. 😉
Joker is the perfect creation of a man. PER. FECT. He's handsome, tall and strong. He's awesome with kids. He's loyal to those who've helped him along the way. And he knows how to LOOOOVE a woman. In every way a man can. And he loved her since high school.
That woman? Carissa. Strong, single mom, no longer taking any guff from her exhole. She secretly loved Joker since high school. There's nothing I love more than a KA h dressed in her butterfly best who has the guts to carry a homemade pie into a motorcycle club's compound and asks to see the biker least-likely to get a visit from a woman who looks like a former prom queen.
Mix those two secret passions together and you get a love explosion of epic proportions. There were some VERY SEXY parts in this book. *fans self* I see myself re-reading this book more than once. I also see myself looking up specific scenes to enjoy, maybe using the keyword "keyed." Heehee…that scene will always be good for a laugh. IS keying a car a felony if you leave enough damage? Hahahahaha! *wipes tear away*
Okay, okay…
Back to the book. I really only have one more thing to say about this book. BUY IT AND READ IT. That is all. Oh! One more thing! Near the 95% mark in the book, have someone nearby to hug, especially if you've had a sweet little preemie baby in your life. <3 You WILL need a hug.
I received a copy of this book from the publisher through NetGalley in exchange for an honest review. Sorry it's late, but major surgery slowed down my reading. :/