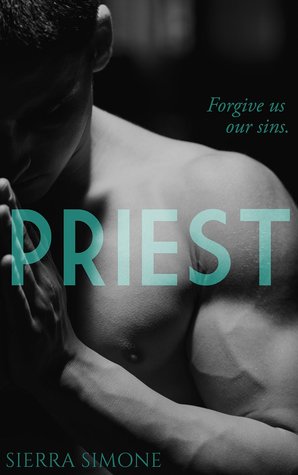 Priest
by
Sierra Simone
Find the Author:
Website
,
Facebook
,
Goodreads
,
Tumblr
Published by
Self-Published
on June 29, 2015
Genres:
BDSM
,
Romantica
Pages:
253
I received this book for free from the author in exchange for an honest review. This does not affect my opinion of the book or the content of my review.
This book may be unsuitable for people under 18 years of age due to its use of sexual content, drug and alcohol use, and/or violence.
Add to Goodreads
Amazon Purchase
~|~
Barnes and Noble Purchase
If you buy this book using the Amazon link, I will receive a small commission from the sale as an Amazon affiliate. Thank you for supporting my blog!
Synopsis

There are many rules a priest can't break.
A priest cannot marry. A priest cannot abandon his flock. A priest cannot forsake his God.

I've always been good at following rules.
Until she came.
My name is Tyler Anselm Bell. I'm twenty-nine years old. Six months ago, I broke my vow of celibacy on the altar of my own church, and God help me, I would do it again.
I am a priest and this is my confession.

***
***Priest is a standalone, full-length novel with an HEA.  For mature audiences only.***
My Review
How do you choose between faith and love?
This book was so much more than I expected. I'm not sure exactly what I expected, but I'm ashamed now to say I thought it would be some cheesy erotica where the heroine gets off on screwing a priest while he's wearing his collar. This is NOT that story. This is a love story. This is the confession of a man who is closer to God than I ever hope to be, the God who loves, not the God who judges and punishes, and NONE of the story is "preachy." I'm not Catholic and never had been, but the character of Father Bell makes me wish he were real and that I'd been attending his parish, and volunteering alongside Poppy to help others in need.
This is the story of a man who is NOT questioning his faith, but instead questions how to use that faith, and whether he's been listening for his true calling. I believe it with all my heart that the messages from God in this book are genuine and true. This is exactly the way He speaks to me in my life.
This is not just a love story, but also a tale of a Dominant in a very unusual suit. 😉 BDSM is kept light in this book, but it is definitely felt. Tyler Bell is a DIRTY talker, and Poppy is a DIRTY slut, and I love it! Sex is rough and filthy with these two. Brace yourself.
I know I'll be thinking of this book for a long time. I have to read another book right away for my schedule, but this one is going to carry over. That can't be helped. It was so heartfelt and just plain lovely. I laughed at the Catholic jokes and cried when the characters cried. This book is perfection between the "sheets." 😉
I received a copy of this book from the author in exchange for an honest review. I got my copy by asking pretty please with peanut butter and pickled bananas on top and that worked. Don't be stealing my idea. It's my new thing. I just HAD to have this book when I saw it was recommended by Laurelin Paige and Corinne Michaels, in CM's Facebook fan group. I decided to pay it forward like CM did. When I received the free book, I canceled my pre-order, but then offered up a giveaway of the book on my blog (I hope my winner is reading it today!). Read this book!