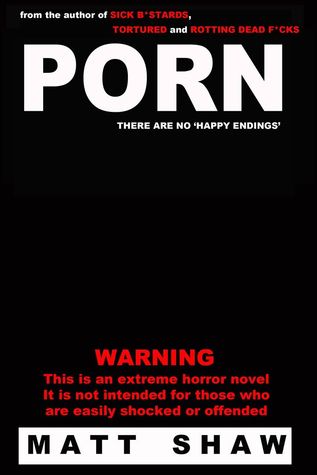 Porn
on July 7, 2014
Pages:
172
This book may be unsuitable for people under 18 years of age due to its use of sexual content, drug and alcohol use, and/or violence.
Add to Goodreads
Amazon Purchase
If you buy this book using the Amazon link, I will receive a small commission from the sale as an Amazon affiliate. Thank you for supporting my blog!
Synopsis

WARNING: THIS IS AN EXTREME HORROR NOVEL. There is gore. There is bad language. There are scenes of a sexual nature.

PORN tells the tragic tale of Victoria Sheldon - a young lady who wanted nothing more than to become an actress. With times being hard Victoria finds herself in the world of Adult Movie Industry where she soon carves a name for herself. Soon the offers are flowing in, as is the money, as she becomes more and more popular amongst the producers but then she meets him...A man with an offer she can't refuse. A man who has other ideas about how pornographic films should be filmed. A man catering for a much, much darker audience.

From the Dark Mind behind Sick B*stards, Tortured and Rotting Dead F*cks - PORN is a violent tale of sex and revenge. It is intended for a mature audience only.
My Review
Ohhhhh, Matt Shaw, aren't you the clever one?
This is THE most cringe-worthy horror I've ever read. I had to check a couple times and, yep, this was written by a man. He wrote from inside the mind of a twisted woman. It's exactly as the title and subtitle suggest, the most accurate word being "extreme." Brace yourself.