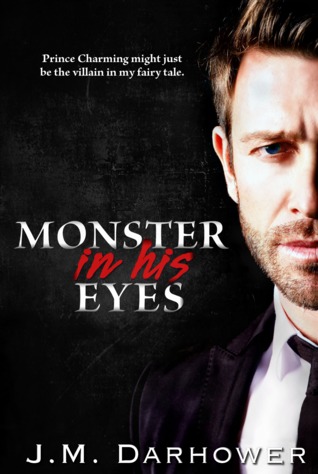 Monster in His Eyes
by
JM Darhower
Find the Author:
Website
,
Twitter
,
Facebook
,
Goodreads
,
Amazon
Series:
Monster in His Eyes #1
Also in this Series:
Torture to Her Soul
Also by this Author:
Torture to Her Soul
Published by
Self-Published
on April 27, 2014
Genres:
Romantica
,
Romantic Suspense
Pages:
351
Heat Rating:
Audiobook Narrator:
Lynn Barrington
Audiobook Length:
10 hours and 47 minutes
This book may be unsuitable for people under 18 years of age due to its use of sexual content, drug and alcohol use, and/or violence.
Add to Goodreads
Amazon Purchase
~|~
Barnes and Noble Purchase
If you buy this book using the Amazon link, I will receive a small commission from the sale as an Amazon affiliate. Thank you for supporting my blog!
Synopsis

Ignazio Vitale is not a good man.

I suspect it, the first time I see him, sense the air of danger that surrounds the man. He has a way of commanding attention, of taking control, of knowing what I'm thinking before I even do.

It's alarming and alluring. It's dark and deadly. It's everything I've ever wanted but the last thing I truly need. Obsession.

It doesn't take him long to draw me into his web, charming me into his bed and trapping me in his life, a life I know nothing about until it's too late. He has secrets, secrets I can't fathom, secrets that make it so I can't walk away, no matter how much I beg him to let me go. I see it sometimes in his eyes, a darkness that's both terrifying and thrilling. He's a monster, wrapped up in a pretty package, and what I find when I unmask him changes everything.

I want to hate him.

Sometimes, I do.

But it doesn't stop me from loving him, too.
My Review
WHY did I wait so long to read this book?
WHY did I let it languish on my Kindle for more than a year?
WHY didn't I listen to my friends that had told me I HAD to read this book? (I LOVE dark, gritty romance, and they know it.)
Well, now it's done, and I've got a serious book hangover and a terrible itch to read the next book in this gripping duet. Naz has me by the throat just as surely as he has Karissa.
"The opposite of love isn't hate, Karissa. It's indifference."
There is such a thin line between love and hate, that sometimes I think they're the same thing.