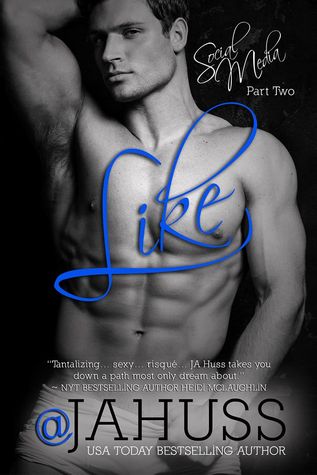 Like
Series:
Social Media #2
Also in this Series:
Block
,
Status
,
Profile
,
Home
on September 10, 2014
Pages:
111
Heat Rating:
This book may be unsuitable for people under 18 years of age due to its use of sexual content, drug and alcohol use, and/or violence.
Add to Goodreads
Amazon Purchase
~|~
Barnes and Noble Purchase
If you buy this book using the Amazon link, I will receive a small commission from the sale as an Amazon affiliate. Thank you for supporting my blog!
Synopsis

#WhatADick

Vaughn Asher. I've stalked him relentlessly. I shaped and formed my lust into the perfect dirty hashtag…day after day… weekend after weekend. He was my prince. My fairy tale. My fantasy.

I gave him the best years of my online life and what did he do for me?

Ruined my social media experience one tweet at a time. That's what.

MovieStar @VaughnAsher
@FilthyBlueBird #Fantastic #BackToNatureFucking
#MissingSomething #You

And now #TheDickWhoIsVaughnAsher thinks he can weasel his way back into this filthy blue bird's Twitter account? He's wrong.

His public fantasy is about to collide… ah, fuck it. He's hot as hell, bitches. I need more than a free sample. This time I want it all and I'll do whatever it takes to get it.
My Review
Yeah, that's new. What's new? The way I highlighted in this book. I highlighted "@FilthyBlueBird has unfollowed you." Then I got so engrossed in the story that I highlighted only one more thing, and it was in the EOBS (fans know what this is). Whuuuuut? I'm the highlight freaking QUEEN! So, this tells me something. It tells me that JA Huss knows her stuff. She knows how to draw you IN and keep you there.
Vaughn Asher. What can I say? I want to fall in love with him, but he's just so naughty and bad. Is that a good thing? Maybe so. I'm on pins and needles. He's going to break her heart. I can feel it. Ug. Thank God it's only two weeks until I have Block in my hot little hands. I hope it's her blocking HIM. #HENeedsARedA$$