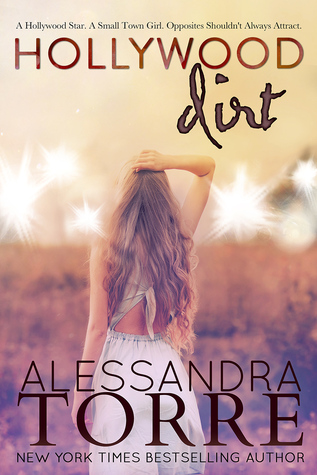 Hollywood Dirt
by
Alessandra Torre
Find the Author:
Website
,
Twitter
,
Facebook
,
Goodreads
,
Amazon
,
Pinterest
Also by this Author:
Black Lies
Published by
Self-Published
on September 7, 2015
Genres:
Contemporary Romance
,
Romantic Comedy
Pages:
414
Heat Rating:
I received this book for free from the author in exchange for an honest review. This does not affect my opinion of the book or the content of my review.
This book may be unsuitable for people under 18 years of age due to its use of sexual content, drug and alcohol use, and/or violence.
Add to Goodreads
Amazon Purchase
~|~
Barnes and Noble Purchase
If you buy this book using the Amazon link, I will receive a small commission from the sale as an Amazon affiliate. Thank you for supporting my blog!
Synopsis

Cole Masten. Married to Nadia Smith. One half of Hollywood's golden couple. The press adored them, fans worshiped them, the box office was owned by them. Together, they could do no wrong.

Cole Masten. Abandoned by Nadia Smith. Hollywood's Perfect Husband is now Hollywood's Sexiest Bachelor: partying hard and screwing even harder. Move over Colin Farrell, there's a new bad boy ruling Los Angeles.

I'm Summer Jenkins, a small town girl stuck in Quincy, Georgia. I cook some mean chicken and dumplins, can bluff a grown man out of his savings in poker, and was voted Most Friendly my senior year. Other than that… I don't have too much going on.

We were from different worlds. Our lives shouldn't have collided. But when Cole Masten's jet landed in our country airport, we all sat up in our rocking chairs and watched. And when an opportunity crossed my path, I jumped at the chance. But I didn't expect what ended up happening. I didn't expect Cole Masten to be an ass, or to pursue me, or for everything to get tangled up around set riggings, camera cords, bra straps and heartstrings.

Sometimes, opposites just aren't meant to attract.
Excerpt from Hollywood Dirt
When the door to the production trailer burst open, it brought with it a wave of heat and beauty. Cole looked up from the storyboards and locked eyes with Summer, who blew across the room at him like a tornado on tilt.
"There's no love story between Ida and Royce." Summer snapped, throwing down the script, pages fluttering down between them. In the small trailer, conversations stalled and he could feel the attention turn their way. "I've read the book. Three times!"
It was good to know that someone had read the damn book. Cole glanced down at her temper tantrum of a mess and back up, raising his eyebrows mildly. "It's a movie," he said, turning back to the storyboards. "The writers are adding some excitement. It's normal. You'd know that if you were in this business." The dig was unnecessary but he couldn't help it. This woman turned him into the devil.
"I read the first script. The one you sent over with my contract. Ida and Royce hated each other. Why would Royce…" she snatched up a page from the ground and read out a line. "pushes Ida against the file cabinet and kisses her passionately." She balled up the page and threw it down to the ground and he could see, in her eyes, the panic. Panic. An unexpected reaction.
"We'll use that," Don made the dangerous move of stepping in, putting a soft hand on her shoulder. "You don't understand. The passion from their hatred will make it hotter."
"No." Summer said, her face hard, her eyes on Cole. "It doesn't make it hotter. It makes it stupid."
"Aww… come on, Summer." Cole chided, stepping closer, his hand reaching out to pull at her wrist. She fought him, yanking it back and the moment of their bodies meeting didn't happen. He leaned down and whispered, right against her ear, the smell of her apple-scented lotion enough to make him want to empty out the production trailer right that moment. "Sure it does."
She jerked back and twisted away. "If he kisses me on camera I'm going to lose it." She shot at Don, pointing an accusatory finger in Cole's direction.
"I know you will," Cole laughed, crossing his arms to fight from reaching out. "You'll fall apart under my mouth, baby."
Summer screamed in response, her hands thrown up in frustration, and spun to leave, her script left behind, the slam of the exit door loud in the full production trailer.
"That went well," Cole mused. He linked his hands and rested them on his head, rolling his shoulders back. Panic. She'd had panic in her eyes. Fuck.
"What do you expect?" Don said. "You threw this on her without warning. I told you we should have met with her this morning, gone over the changes to prepare her. But no – you just wanted to dump it on her via call sheets and sides."
"Dump it on her? I was People's Sexiest Man last year. She's not mentally adjusting to a war camp for God's sake. How hard is it to kiss me?"
"It's actually three kisses," a dark-haired PA to his left pointed out. "And a grope."
He gave her a hard look and she withered a little.
"I'll go talk to her," Don said. "Eileen, you shoot #4 and I'll talk to Summer. I want to try to get #14 shot at eleven so let's get our asses in gear and get this done."
"I'll talk to her." Cole stepped in. "You shoot #4 and I'll talk to her."
"No," Don snapped. "With my luck you two would make up and any authenticity to the scene would disappear. Just stay away from her and be ready at eleven."
Cole chewed on his cheek, then nodded. "Fine." Don was right. He should stay away from her. Far. Far away.
? ? ? ? ? ? ? ? ? ? ?
Want to read the first pages of Hollywood Dirt?
? ? ? ? ? ? ? ? ? ? ?
Please like the Hollywood Dirt Book Facebook Page for updates!
? ? ? ? ? ? ? ? ? ? ?
my review
I didn't want this book to end! I had to force myself to put it down when it was over. 🙁 The frowny-face is because it's over.
It filled me with ALL the feels. I wanted more Hollywood. I wanted more small-town peace and quiet. I wanted more punishment for the antagonist. I wanted more of the top-secret cameo character that surprised and thrilled me. I wanted more hate sex. I wanted more I-can't-possibly-keep-myself-out-of-you-right-now sex. I wanted more sparkly stars in my eyes from the excitement of meeting a movie star. I even wanted more paparazzi.
Note for the Grammar Police: I'm going into present tense on PURPOSE right now.
Now, it's now. I still want all those things. I guess I'll just have to read it again. And you should read it, if you haven't yet. Or read it again.
"The porch?" He didn't want to leave this space, felt rooted on this cheap floor, by the warmth of the dessert, his legs sluggish to move.

She misunderstood. "I lit a citronella candle out there. The bugs will stay away." Her voice was so different, so gentle and sweet. Is that what a half a million bought him? A sexified Betty Crocker?
I may never be able to eat chicken again, thank you. And did you know chickens are CANNIBALS??? Alessandra, please tell me this isn't true. Some small-town folk feed their chickens treats, when they love their chickens, and some of those treats are BOILED EGGS. That's just sick. O_O
Okay, so, before I go into fangirl meltdown, I need to wrap this up. Thanks so much for giving me a copy of Hollywood Dirt, Alessandra Torre. I thoroughly enjoyed it, recommend it highly, and here is an honest review as thanks. I can't wait to see what story you have up your sleeves next!