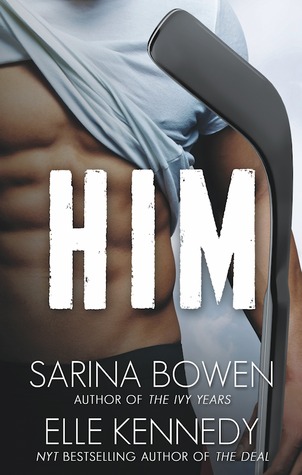 Him
by
Sarina Bowen
,
Elle Kennedy
Also by this Author:
The Deal
,
The Mistake
Published by
Rennie Road Books
on July 28, 2015
Genres:
Contemporary Romance
,
LGBTQIA
,
New Adult
,
Sports Romance
,
Romantic Comedy
Pages:
276
Heat Rating:
I received this book for free from the publicist in exchange for an honest review. This does not affect my opinion of the book or the content of my review.
This book may be unsuitable for people under 18 years of age due to its use of sexual content, drug and alcohol use, and/or violence.
Add to Goodreads
Amazon Purchase
~|~
Barnes and Noble Purchase
If you buy this book using the Amazon link, I will receive a small commission from the sale as an Amazon affiliate. Thank you for supporting my blog!
Synopsis

They don't play for the same team. Or do they?

Jamie Canning has never been able to figure out how he lost his closest friend. Four years ago, his tattooed, wise-cracking, rule-breaking roommate cut him off without an explanation. So what if things got a little weird on the last night of hockey camp the summer they were eighteen? It was just a little drunken foolishness. Nobody died.

Ryan Wesley's biggest regret is coaxing his very straight friend into a bet that pushed the boundaries of their relationship. Now, with their college teams set to face off at the national championship, he'll finally get a chance to apologize. But all it takes is one look at his longtime crush, and the ache is stronger than ever.

Jamie has waited a long time for answers, but walks away with only more questions—can one night of sex ruin a friendship? If not, how about six more weeks of it? When Wesley turns up to coach alongside Jamie for one more hot summer at camp, Jamie has a few things to discover about his old friend...and a big one to learn about himself.

Warning: contains sexual situations, skinnydipping, shenanigans in an SUV and proof that coming out to your family on social media is a dicey proposition.
My Review
2 Young Men + 2 Hockey Sticks = The Book 4 Me!
I love manlove books. I love hockey books. Together in one? EXPLOSIVE! This is a page-turner for me. This new adult sports romantica gem is up for re-read as soon as I can manage it. I love the main characters so, so much. The authors let us see the point of view of both of them, so we get first-hand knowledge of their feelings, insecurities, and every HOT thought. Five-flame thoughts. The sex is hot and everywhere, but definitely not overdone. It. Is. PERFECT. The love drips off both men. Plus, the thought of two, strong, well-built men going at it hard, because there is not a "delicate" woman anywhere to be found when it is just the two of them in bed, triggered my hot flashes. No joke. When they were all in sweaty afterglow, so was I. <3
I've read 18 Elle Kennedy books, but this is my first Sarina Bowen book. I can't wait to dive into more of Sarina's books, particularly the delicious-looking The Ivy Years series, that is unless Gravity takes me first. 😉 I will be THERE if these two ever collaborate again, because Him is wordly GOLD. I made up the word "wordly" because "literary" is much too stuffy of a word for my flavor of reading enjoyment.
I'm hoping to see some sort of "next generation" book for Killfeather. I'm so sad at how things are left with him. MORE please. 🙂 (A grownup version of him, of course…)
Verdict? BUY THIS BOOK RIGHT NOW. Feel the love and smile a TON.
I received a copy of this book from the authors' publicist in exchange for an honest review. Thanks so much for this amazing reading opportunity!