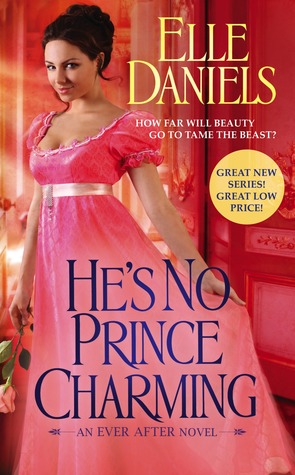 He's No Prince Charming
Series:
Ever After #1
on October 28, 2014
Pages:
384
I received this book for free from the publisher through NetGalley in exchange for an honest review. This does not affect my opinion of the book or the content of my review.
This book may be unsuitable for people under 18 years of age due to its use of sexual content, drug and alcohol use, and/or violence.
Add to Goodreads
Amazon Purchase
~|~
Barnes and Noble Purchase
If you buy this book using the Amazon link, I will receive a small commission from the sale as an Amazon affiliate. Thank you for supporting my blog!
Synopsis

A wounded beast . . .

It took Marcus Bradley forever to find a suitable bride. And then he lost her—all because some meddling matchmaker with a crazy notion about "true love" helped her elope with another man. Now, to save his sister from a terrible marriage alliance, he needs a replacement—an heiress, to be exact . . . and he knows just the woman to help him find one.

A spirited beauty . . .

Danielle Strafford believes everyone deserves a fairytale ending—even the monstrously scarred and notoriously brooding Marquis of Fleetwood. Not that he's left her a choice. If she doesn't help him secure a wife—by any means necessary—he'll reveal her scandalous secrets.

A passion that will consume them both

The more time Marcus spends with Danielle, the less interested he is in any other woman. But the Beast must do the impossible: keep from losing his heart to a Beauty he is destined to lose. (90,000 words)
My Review
4.5 stars for a fantastic debut by Elle Daniels!
I love a good Beauty and the Beast tale. This book was clever in starting with The Beast, Marcus's, point of view. I felt his pain from minute one. There's nothing like falling in love with a tortured, wounded bird who needs some light shone on his soul. Elle Daniels had me crying already just 16% into the book. That is a QUICK connection to the characters for me. Impressive!
"She'd ruined Danni's organized existence, and made Danni the victim of blackmail. She'd never thought helping someone find happiness could cause her so much misery."
I find it funny that some are complaining about the kidnapping aspect of this story and how easily it was swept under the rug by the "victims." Has no one actually read the fairy tale? It isn't pretty, as is true for most fairy tales. They are violent and ugly. Most just choose to remember the happily ever after and forget the rest. Not Elle Daniels. She tortures us with pages and pages of angst, misunderstanding, violence, shootings, inappropriate behavior without a chaperone, and other excitement befitting a historical romance.
Excellent work! The only reason I took away a half point was for the editing. I almost glossed over that, but the misuse of several common words (horse instead of hoarse, distain instead of disdain) over a dozen times was too much for one book. Shame on the editor for spoiling Elle's story.
I look forward to many more exciting tales from this author! She's one to watch out for!