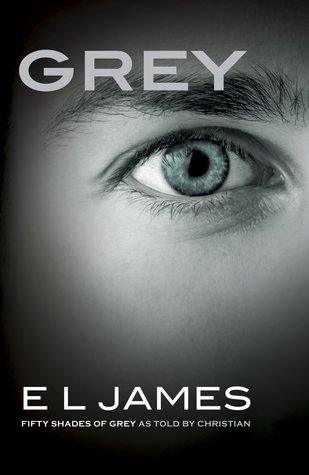 Grey: Fifty Shades of Grey as Told by Christian
Series:
Fifty Shades #4
on June 18, 2015
Pages:
576
Audiobook Length:
18 hours and 46 minutes
This book may be unsuitable for people under 18 years of age due to its use of sexual content, drug and alcohol use, and/or violence.
Add to Goodreads
Amazon Purchase
~|~
Barnes and Noble Purchase
If you buy this book using the Amazon link, I will receive a small commission from the sale as an Amazon affiliate. Thank you for supporting my blog!
Synopsis

See the world of Fifty Shades of Grey anew through the eyes of Christian Grey.

In Christian's own words, and through his thoughts, reflections, and dreams, E L James offers a fresh perspective on the love story that has enthralled millions of readers around the world.

Christian Grey exercises control in all things; his world is neat, disciplined, and utterly empty—until the day that Anastasia Steele falls into his office, in a tangle of shapely limbs and tumbling brown hair. He tries to forget her, but instead is swept up in a storm of emotion he cannot comprehend and cannot resist. Unlike any woman he has known before, shy, unworldly Ana seems to see right through him—past the business prodigy and the penthouse lifestyle to Christian's cold, wounded heart.

Will being with Ana dispel the horrors of his childhood that haunt Christian every night? Or will his dark sexual desires, his compulsion to control, and the self-loathing that fills his soul drive this girl away and destroy the fragile hope she offers him?

This book is intended for mature audiences.
My Review
Just finished a moment ago, so let me wipe away the tears first…
This book was everything I didn't even know I wanted from EL James. It was a detailed insight into every phase of Christian's life: his abusive early childhood, his inability to accept love because of that abuse after being rescued and adopted, his tween angst that was angry and out of control, his exposure to a pedophile and believing that was his redemption, his belief that his BA (before Ana) BDSM lifestyle was the only way he could be, and finally, life after Ana fell into his office.
In this story, EL James gifts us with Christian's point of view of everything that occurred in Fifty Shades of Grey. She also goes a few days beyond into Fifty Shades Darker, into the week where Ana was blind to what Christian was doing at all, because she had left him. In those few days, we finally get to see Christian interacting with Dr. Flynn with no one else around, and hear the magnificent advice he receives from Flynn. We also get to see how little "Mrs. Robinson" really meant to Christian at this point in his life. Poor Ana in Fifty Shades. She spent SO much more time thinking of that pedophile than she needed to.
EL James, I do hope you'll be rewarding us with Christian's viewpoint of the other two books. I can only imagine the rage he felt about Jack Hyde, and about Elena and her ex-husband's tricks. Just like Ana and Christian, I want MORE. More, please. 🙂 I already can picture the two titles: Darker and Freed.