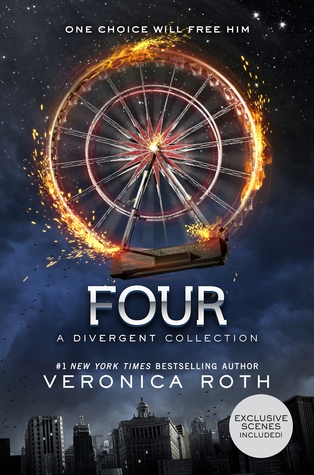 Four: A Divergent Collection
on July 8, 2014
Pages:
285
Audiobook Length:
6 hours and 33 minutes
Add to Goodreads
Amazon Purchase
~|~
Barnes and Noble Purchase
If you buy this book using the Amazon link, I will receive a small commission from the sale as an Amazon affiliate. Thank you for supporting my blog!
Synopsis

Two years before Beatrice Prior made her choice, the sixteen-year-old son of Abnegation's faction leader did the same. Tobias's transfer to Dauntless is a chance to begin again. Here, he will not be called the name his parents gave him. Here, he will not let fear turn him into a cowering child.

Newly christened "Four," he discovers during initiation that he will succeed in Dauntless. Initiation is only the beginning, though; Four must claim his place in the Dauntless hierarchy. His decisions will affect future initiates as well as uncover secrets that could threaten his own future—and the future of the entire faction system.

Two years later, Four is poised to take action, but the course is still unclear. The first new initiate who jumps into the net might change all that. With her, the way to righting their world might become clear. With her, it might become possible to be Tobias once again.

From #1 New York Times bestselling author Veronica Roth comes a companion volume to the worldwide bestselling DIVERGENT series, told from the per-spective of the immensely popular character Tobias. The four pieces included here—THE TRANSFER, THE INITIATE, THE SON, and THE TRAITOR—plus three additional exclusive scenes, give readers an electrifying glimpse into the history and heart of Tobias, and set the stage for the epic saga of the DIVERGENT trilogy.
My Review
An excellent side-view of pieces of the Divergent Trilogy!
Plus, we got a peek inside the mind of Four, personally my favorite character from the series of books. (Peter was my favorite in the movies because of the actor, but that's a story for a movie review.) 😉 Four had a lot more going on in his mind than I ever imagined throughout reading Divergent.
The stories in this collection covered a time two years BT (before Tris) starting just before his own Choosing Day, and continued beyond Tris jumping into the net. I adored him even more now that I've seen inside him. He was more damaged than I ever imagined! The collection also included a few bonus scenes from the trilogy, written from Four's point of view.
I recommend this collection to anyone who has enjoyed the full trilogy. Though this was, in part, a prequel, you would get much more enjoyment from it if you've read the trilogy first.
Five stars from this lover of dystopian fiction!