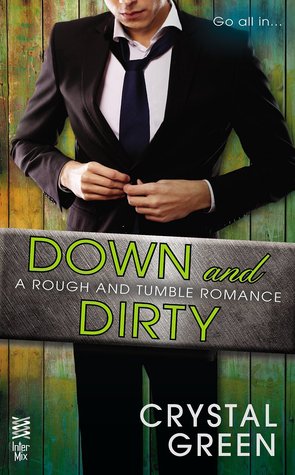 Down and Dirty
Series:
Rough and Tumble #2
on October 21, 2014
Pages:
291
I received this book for free from the publisher through NetGalley in exchange for an honest review. This does not affect my opinion of the book or the content of my review.
This book may be unsuitable for people under 18 years of age due to its use of sexual content, drug and alcohol use, and/or violence.
Add to Goodreads
Amazon Purchase
~|~
Barnes and Noble Purchase
If you buy this book using the Amazon link, I will receive a small commission from the sale as an Amazon affiliate. Thank you for supporting my blog!
Synopsis

On the outskirts of Sin City, there's a rough and tumble saloon where the women who are brave enough to enter can mingle with men that are equally magnetic and dangerous. And in this town, no one's afraid to get a little dirty…

Billionaire playboy Bennett Hughes' black sheep reputation is well-earned, but that doesn't stop him from wanting the respect of his family—even if it means tracking down his brother's gold-digging one-night-stand to earn it. But when Ben finds his intended target to be the opposite of what he expected, his chance at redemption ends in an accidental quickie marriage.

Despite her history, ex-showgirl Liz Palazzo believes in love at first sight, something she thought she experienced with Ben. Determined to put her party-girl reputation behind her, Liz vows to be the best wife ever—even if her husband seems set on keeping their union a marriage of convenience.

But as the sparks fly and their connection grows, Ben starts to wonder if Liz might be the one person who can make him a better man—or if the former bad girl just wants him for his money…
My Review
The black sheep of the family gets married!
Not for love, but for convenience. Ben's party-boy reputation needs to be cleaned up and polished. Can he do that with an ex-showgirl who just might be a gold digger? Well, the gold digger has a heart of gold and dreams she can't afford because her life savings paid for her mom's cancer treatments. Since her mother died, she's been forced to retire from her showgirl career and wants fast money to fund her dream of opening an old-school dinner club in Vegas. Now she finds herself married by accident to a billionaire. Oops!
I laughed. I cried. I cried harder. I loved on a puppy. There are tear stains on my glasses. I sure love a good cry. Grab some tissues and put on your seatbelt. This one is a rollercoaster. Which side is up again?
The torch has been passed from the first book in the series to this one, and again this book ended, passing the torch with no cliffhanger (whew) to Gideon, the next Nevada dirty boy from the Rough and Tumble Saloon to get his own book. I'll be there!