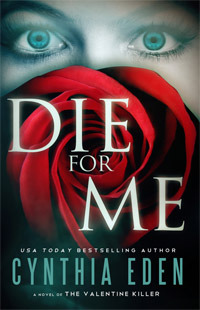 Die For Me: A Novel of the Valentine Killer
by
Cynthia Eden
Find the Author:
Website
,
Twitter
,
Facebook
,
Goodreads
,
Amazon
Series:
For Me #1
Published by
Montlake Romance
on February 12, 2013
Genres:
Romantic Suspense
,
Mystery
Pages:
358
Audiobook Narrator:
Emily Beresford
Audiobook Length:
10 hours and 56 minutes
I received this book for free from the publisher through NetGalley in exchange for an honest review. This does not affect my opinion of the book or the content of my review.
This book may be unsuitable for people under 18 years of age due to its use of sexual content, drug and alcohol use, and/or violence.
Add to Goodreads
Amazon Purchase
~|~
Barnes and Noble Purchase
If you buy this book using the Amazon link, I will receive a small commission from the sale as an Amazon affiliate. Thank you for supporting my blog!
Synopsis

Katherine Cole thought her fiance was the perfect man until he turned out to be the perfect killer. He left his victims stabbed through the heart holding a telltale single red rose and was deemed the Valentine Killer. Three years ago he vanished. Now he's back. And he's hunting the one who got away. In New Orleans, Katherine dared to hope she was finally safe, yet somehow he found her. This time, Katherine won't just sit silently by; she'll do anything to stop the monster she once loved, even trust the sexy cop promising to keep her safe? Detective Dane Black never lets his emotions interfere with the job, even as the Valentine Killer surfaces in New Orleans to stalk his prey. But when Dane agrees to protect the killer's ex-fiance, he can't ignore the passion kindling between them. After a single unforgettable night binds them body and soul, Dane won't rest until Katherine is safe in his arms and the Valentine Killer is dead.
My Review
The Valentine Killer almost killed ME!
…with suspense, that is. Beginning to end, this book had me ensnared and tied down as surely as the Valentine Killer had tied down the victims. Take note that I've used no pronouns like he or she. You may wonder at times.
Many surprises await you. I guessed a few of the twists, but most of it was unpredictable. Put on your seatbelt. It's a bumpy ride!