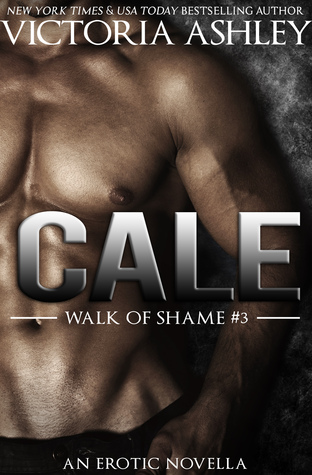 Cale
by
Victoria Ashley
Find the Author:
Website
,
Twitter
,
Facebook
,
Goodreads
,
Amazon
Illustrator:
Clarise Tan
Series:
Walk of Shame #3
Also in this Series:
Hemy
,
Slade
,
Walk of Shame
Also by this Author:
Hemy
,
Get off on the Pain
,
Thrust
,
Slade
,
Walk of Shame
,
Something for the Pain
Published by
Self-Published
on July 2, 2015
Genres:
Contemporary Romance
,
Romantica
Pages:
133
Heat Rating:
I received this book for free from the author in exchange for an honest review. This does not affect my opinion of the book or the content of my review.
This book may be unsuitable for people under 18 years of age due to its use of sexual content, drug and alcohol use, and/or violence.
Add to Goodreads
Amazon Purchase
~|~
Barnes and Noble Purchase
If you buy this book using the Amazon link, I will receive a small commission from the sale as an Amazon affiliate. Thank you for supporting my blog!
Synopsis

My name is Cale Kinley and I'm a fucking Virgin…

Well, with the exception of my tongue. The countless things I can do with my tongue are bound to leave you breathless and begging for more, but more… is something that I can't give. It's a choice. My choice.

There's a reason for that. A very good reason, and that reason is her.

Riley.

She's the only woman that I want to bury myself deep in. The one woman I have wanted since I was old enough to fuck.

I never got my chance though, because she left. She had no choice and it stung like hell. But I couldn't let her leave without telling her how I felt. I wanted her to be my first and I didn't give a shit how long I'd have to wait.

It's been six years and now she's back and sexier than all hell. Just the sight of her stops my damn heart from beating. I want her and for more than just having her as my first.

I'm determined to have her in every way possible. She thinks this is still a game; that I've already given myself to countless women. What she doesn't know is that I have a lot of willpower.

When I want something as badly as I want her, I don't let shit stand in my way. I'm going to prove that to her. There's just one little problem I need to take care of…

Him.
Cover by CT Cover Creations
excerpt from cale
After securing my apron filled with my lotions and oils, I turn to the table and my heart starts pounding like crazy in my chest as I see a body, barely covered by a small towel, just waiting to be touched by me. I swallow hard while letting my eyes roam over the stiff muscles of the tanned back on display. The top of the client's ass peeks out of the towel, displaying the roundest, firmest ass I have ever seen before… and the dimples in his back are making it hard for me to gain some much-needed confidence.
Doing a silly little shake in an attempt to shake my nerves off, I squirt some oil in my hands and slowly run my hands up the bottom of his back, being sure to make it feel as insanely good as I possibly can.
The feel of his muscled back beneath my fingers and the deep, undeniably sexy moan that escapes his throat almost has me turned on as I start to go lower, until I'm right above his ass.
"Go lower," the deep voice whispers. "Take the towel off."
I almost deny his request, when I remember that Sensual Touches is clothing optional. That's the one thing that almost kept me from applying, but comparing the pay that you get here versus the other options, I knew what my choice had to be.
"This is new to me," I whisper, before speaking up. "Let me know if you get uncomfortable and I'll replace it before you flip over on your back."
"That won't be an issue," he says huskily.
Keeping my moan to myself, I lower my hands down to his ass, removing the towel little by little as I continue to get lower. As soon as my hands reach the bottom of his ass, I remove the towel completely and hold back the gasp that fights to escape me.
Holy hotness…
Remembering that this was per his request, and that it's fully professional to be doing this here at Sensual Touches, I grip the back of his upper thighs and massage it while rubbing my thumbs over the bottom of his tight ass, enjoying every single moment of it.
In fact, I'm enjoying it so much that I almost feel guilty. Tyler and I have been broken up for less than a week, and here I am enjoying myself as I rub on another man's ass, listening closely for each moan that he will grace my ears with.
After spending a good, long, fifteen minutes on his ass itself, I focus my attention on the rest of his muscular body, mentally preparing myself for the rest of his gloriousness that I'll be seeing in the flesh as soon as I finish up on his backside.
Now I understand why that Hailey chick is going to be pissed off. Massaging this stud has to be the best part of her job here. How can you not enjoy this?
Pulling my hands away, I turn away to give him some privacy. "I'm ready for you to flip over, sir. Please let me know when you're ready."
"I'm always ready for you, Rile."
my review
Cale was perfect! Who knew a virgin stripper could be hot in bed?
The book started with a peek into the teen past of the main characters and their final farewell, which would last several years. I could feel the pain of each, thinking they may lose their best friend. Miles apart, they stayed in touch for a few years, but the phone calls trickled down…and Cale felt forgotten. Through all of this, he was saving his virginity, hoping one day she'd return and he could give that to her.
Riley is mine. She has been from the very first day we met.
"She" being Riley, Cale's best friend going back ten years. The two have been secretly yearning for each other, even as teens, but held back, afraid of losing their friendship if they even tried the next level. In the meantime, she returned and was surprised to find Cale on her massage table at work. Then the real story began, and I certainly would't spoil that for you. Just know, the sex in this book was SUPER FIVE-FLAMES HOT. 🙂
"What's wrong?" He smiles at me and looks down at my legs that are still slightly shaking. "Did you orgasm, Rile?"…

…"Well damn, Rile. That's the hottest thing I've ever heard." He smirks down at me and wets his lips. "Knowing that I can make you come without even touching you..is by far the sexiest, most satisfying thing that's ever happened to me. All it does is make me want to bend you over this massage table and fuck you until we both can't walk."

"Cale…"
One of my favorite parts of this book was when several of the guys from the Walk of Shame were together somewhere, eating and drinking, having a great time being friends, and talking guy stuff. That all made me smile. Those boys had become family to each other.
I love all these fuckers to death.
(For you grammar-minded folks, I'm going to slide into present tense ON PURPOSE.) 😛 I'm hoping with all my heart that Victoria Ashley has at least one more story for us based on the new boys at the Walk of Shame. I wouldn't mind seeing the "evil bossman" take a few more hits…to his pocketbook and his FACE. Heh heh…
I can't wait to see what Victoria Ashley has next in store for us. I know of at least two things in the works. One is from the Pain series, and the other has something to do with a guitar and a VERY HOT man who, I assume, plays that guitar, maybe perhaps stark naked. Swoon!
I received a copy of this book from the author in exchange for an honest review. As a new-ish blogger, this is my first blog tour, and I'm so pleased to be helping to support Victoria Ashley in her great success. Buy this book! Feel the heat!
giveaway: $20 Amazon Gift Card