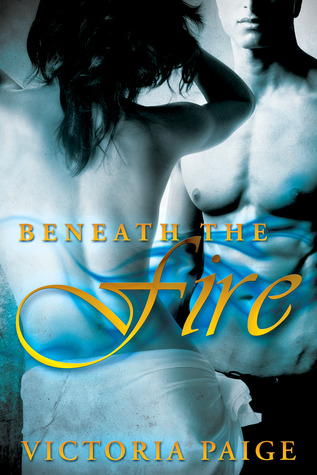 Beneath the Fire
Series:
Guardians #1.5
Also in this Series:
Fire and Ice
,
Fire and Ice: An Extended Epilogue
,
Silver Fire
,
Silver Fire: An Extended Epilogue
,
Smoke and Shadows
,
Smoke and Shadows: An Extended Epilogue
on June 24, 2013
Pages:
91
This book may be unsuitable for people under 18 years of age due to its use of sexual content, drug and alcohol use, and/or violence.
Add to Goodreads
Amazon Purchase
If you buy this book using the Amazon link, I will receive a small commission from the sale as an Amazon affiliate. Thank you for supporting my blog!
Synopsis

A new adult romance featuring a hot alpha hero and a shot of adrenalin. This novella has everything you want for a quick read: no filler, all action, intrigue and steamy scenes.

Lucy Cortez is a model college student. She makes good grades, attends her study groups regularly and stays out of trouble in school.

Nathan Stark is the new hotshot star of their college's lacrosse team. He is over six-feet of lethal charm and his sapphire blue eyes can make any girl swoon.

They meet cute and fall for each other. They live happily ever after, right?

Wrong. Beneath the fire of their passion lurks a tangle of lies and deceit. Was theirs a chance encounter or a premeditated meeting? For Nathan isn't exactly who he says he is and Lucy herself is full of secrets—dangerous secrets.

Unless they trust each other with the truth of who they are, the fragile bond of young love may be broken and lives hanging in the balance may be shattered forever.
My Review
Second time even better as a Hubby Read-Aloud!
It's my mission to get more women reading their favorite books out loud to their men. Victoria Paige's (VP) books are a great choice, because every book she writes has action AND "action." *wink, wink* My husband is truly enjoying our adventure through her library.
It's been a long time since I read this the first time, so all of the surprises and twists were surprising and twisty all over again for me. I love the new adult bent of this one, while continuing with her classic military-type-alpha guy hero and strong, smart heroine. This is truly smut for smart girls. I love it when I have to look up a few words while I'm reading. Kindle has made that so quick and easy to do. I can read smut of this kind and still increase my vocabulary! Win, win!
Two of my favorite VP characters make an appearance in this book, Jack and Maia. I don't know what it is about Jack, but when he comes on the scene, I get all swoony and think, "Oh, JACK! My hero!" Yeah, cheesy, but I love it! I like cheese.
I'm looking forward to heading out and searching up the next VP book to read aloud to hubby. I'm all about reading in order. I'm surprised how fast we're getting through some of these with just a chapter a night! It's really become a special part of our day, to kick back and be a couple while the kids are cleaning up after dinner.
Five stars – high recommendation for Beneath the Fire! Do it for your man. 🙂