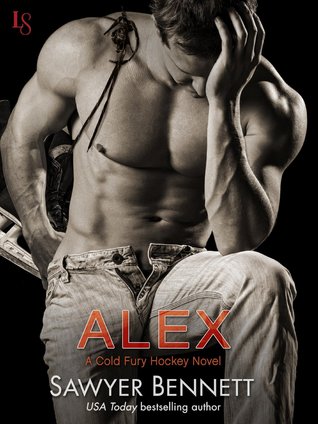 Alex
Series:
Cold Fury Hockey #1
on October 14, 2014
Pages:
300
Audiobook Length:
9 hours and 57 minutes
I received this book for free from the publisher through NetGalley in exchange for an honest review. This does not affect my opinion of the book or the content of my review.
This book may be unsuitable for people under 18 years of age due to its use of sexual content, drug and alcohol use, and/or violence.
Add to Goodreads
Amazon Purchase
~|~
Barnes and Noble Purchase
If you buy this book using the Amazon link, I will receive a small commission from the sale as an Amazon affiliate. Thank you for supporting my blog!
Synopsis

Hockey star Alexander Crossman has a reputation as a cold-hearted player on and off the rink. Pushed into the sport by an alcoholic father, Alex isn't afraid to give fans the proverbial middle finger, relishing his role as the MVP they love to hate. Management, however, isn't so amused. Now Alex has a choice: fix his public image through community service or ride the bench. But Alex refuses to be molded into the Carolina Cold Fury poster boy . . . not even by a tempting redhead with killer curves.
As a social worker, Sutton Price is accustomed to difficult people--like Alex, who's been assigned to help her create a drug-abuse awareness program for at-risk youth as part of the team's effort to clean up his image. What she doesn't expect is the arrogant smirk from his perfect lips to stir her most heated fantasies. But Sutton isn't one to cross professional boundaries--and besides, Alex doesn't do relationships . . . or does he? The more she sees behind Alex's bad-boy facade, the more Sutton craves the man she uncovers.
My Review
Does it get better than Uncivilized?
Why, yes … yes it does! Now Sawyer Bennett has gifted us with Alex. Oh, who should Sutton choose? The one she has a nice time with, or the one who eye-fucks her breathless? The one who causes her to merely shrug and sigh after a 4-year relationship ended, or the one she sees and instantly feels a small punch to her gut? Seriously? There is just no choice there. I was starting to think the ex would need a baseball bat to the skull to realize it was really, truly, honestly over.
The sexual chemistry between the main characters was off-the-charts, ridiculously, combustibly (that's not a word … so what!) hot! I could not put this book down! I laughed, I cried, I cheered, and I booed. What I did not do was put it down. Benefit #634 to homeschooling older kids: they can make you a sandwich because you're busy reading for work. 😉
My favorite part of this book was the epilogue. It was a classic epilogue, relating ONLY to the main characters of THIS book. Epilogues are for the HEA part … a marriage, engagement, babies, anything but a cliffhanger. Sawyer Bennett delivered on the HEA, and beautifully set up the next book in the series throughout this story. I can't wait to read another Sawyer Bennett book!