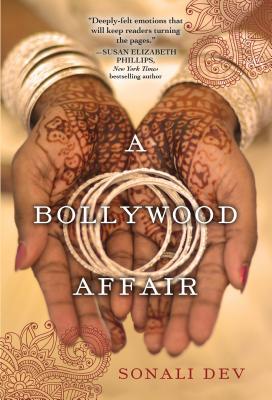 A Bollywood Affair
on October 28, 2014
Pages:
305
Audiobook Length:
10 hours and 23 minutes
I received this book for free from the publisher through NetGalley in exchange for an honest review. This does not affect my opinion of the book or the content of my review.
This book may be unsuitable for people under 18 years of age due to its use of sexual content, drug and alcohol use, and/or violence.
Add to Goodreads
Amazon Purchase
~|~
Barnes and Noble Purchase
If you buy this book using the Amazon link, I will receive a small commission from the sale as an Amazon affiliate. Thank you for supporting my blog!
Synopsis

Mili Rathod hasn't seen her husband in twenty years—not since she was promised to him at the age of four. Yet marriage has allowed Mili a freedom rarely given to girls in her village. Her grandmother has even allowed her to leave India and study in America for eight months, all to make her the perfect modern wife. Which is exactly what Mili longs to be—if her husband would just come and claim her.

Bollywood's favorite director, Samir Rathod, has come to Michigan to secure a divorce for his older brother. Persuading a naïve village girl to sign the papers should be easy for someone with Samir's tabloid-famous charm. But Mili is neither a fool nor a gold-digger. Open-hearted yet complex, she's trying to reconcile her independence with cherished traditions. And before he can stop himself, Samir is immersed in Mili's life—cooking her dal and rotis, escorting her to her roommate's elaborate Indian wedding, and wondering where his loyalties and happiness lie.

Heartfelt, witty, and thoroughly engaging, Sonali Dev's debut is both a vivid exploration of modern India and a deeply honest story of love, in all its diversity.
My Review
Original review of November 3, 2014:
What a surprise! I loved this book!
My 4.5-star rating would be five stars if not for the price of the book. This is a debut novel and more people will read it if the price is lower. A LOT more people, because this book is perfection and I'm going to shout that to the rooftops.
First, a big thank you to Nalini Singh who tweeted about this book, otherwise I probably would not have known about it. I love Nalini Singh books, so it only made sense that I would love to read what she's reading. 🙂
A Bollywood Affair had my attention from the very first page and I was loathe to put it down last night at 70-something% in order to sleep and be a good homeschooling momma on Monday. I was laughing so hard half the day yesterday over this book, that I was snort-laughing and my family was gawking at me. By the time Mili stopped all her crying, dried up from too many tears, my own tears started to pour. Then when her tears started up again, I was choking on them. This book is a rollercoaster of emotion of epic proportions. I know little about Bollywood, but I suspect this book would make an excellent Bollywood movie. Am I right, Bollywood fans?
Mili was a student from India studying in America, with barely a penny to her name. She delighted in food and I enjoyed her every foodgasm.
By the time Samir knocked on her door, I felt I already knew her well. Sonali Dev is a genius in making us feel what the characters feel. Samir does not love easily, but when he does, it's for family and it's fierce. He was a true hero in my eyes, and his rakishness quickly faded into the past for the majority of the book. I fell in love with him and his devilish sense of humor.
I thoroughly enjoyed immersing myself into a culture I knew so little about. I was charmed by the villagers' beliefs, except, of course, when they seemed so outrageous to my Western-cultured mind. This city/country rake/virgin tale needs to get in the hands of everyone who loves an emotional love story with a sassy virgin and a brash hero who had a tortured childhood.
I look forward to more books from Sonali Dev, who apparently is somewhat of a neighbor of mine somewhere in Chicagoland. Her talent shines and I can't wait to see what thrilling tale comes next from her brilliant mind. Five stars for her and 4.5 stars for whoever priced this fantastic book.
Edited on June 14, 2015 as I'm putting this review in its permanent home on my new blog. I am SO HAPPY to be revising this to five stars permanently. The rules on the previous blog that held this review had me taking a half-point for the price. Now I'm my OWN boss, and I can vote stars with my heart. My heart says this book has stuck with me for months and I want everyone to read this book! It's like nothing else I've read in the past few years, or even ever.
Sonali Dev's next book is publishing September 2015. My eyes, legs and fingers are crossed in hopes that Kensington will again reward me with a copy of this amazing author's work through NetGalley.